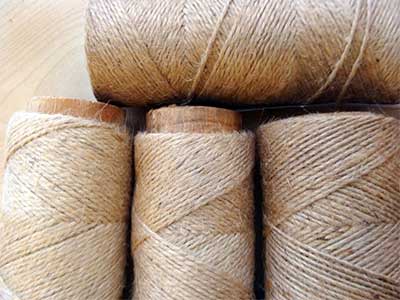 Jute is a long, soft, shiny vegetable fiber that can be spun into coarse, strong threads. It is produced primarily from plants in the genus Corchorus. Jute is one of the most affordable natural fibres and is second only to cotton in amount produced and variety of uses. Jute fibres are composed primarily of plant materials, cellulose and lignin. It falls into the bast fiber category (fiber collected from bast, the phloem of the plant, sometimes called the "skin").
Some Features of Jute
Jute is 100% biodegradable & recyclable and thus environment friendly.
Jute is a natural fibre with golden & silky shine, and hence nicknamed as The Golden Fibre.
Jute is the second most important vegetable fibre after cotton. Jute has high tensile strength, and low extensibility.
Raw Jute and Jute goods are interpreted as Burlap, Industrial Hemp and Kenaf in some parts of the world.
The best source of Jute in the world is the Bengal Delta Plain, which is occupied by Bangladesh and India.
Jute is the cheapest vegetable fibre procured from bast of the Jute plant and it falls into the category of bast fibres (other bast fibres are Flax, Hemp, Ramie).
Jute stem has very high volume of cellulose that can be achieved in 4-6 months, and hence it can save the forests and meet cellulose requirement of the world.
Jute is one of the most versatile natural fibres that has been used in raw materials for packaging, textiles, non-textile, and agricultural sectors.
© 2018 Ashoka exports - All rights reserved